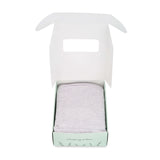 Tranquil Gray Lavender Neck Wrap
Fulfilled by our friends at Whispering Willow
Our Lavender Neck Wrap provides calming aromatherapy while easing tension and tightness in your neck, shoulders, and back.  
The soft cotton flannel introduces a gentleness to your skin while the heat from the organic flax seeds settles deep into your muscles, releasing the stress and anxiety that sits beneath your skin.  Finally, the calming aroma of organic lavender flowers fills the air, leaving you grounded, settled, and at peace.
Take the Effort Out of Relaxing
Measurements: Approximately 27 inches long by 5 inches wide
Weight: Approximately 1lb 12oz
Ingredients: wonderfully soft 100% cotton flannel filled with organic lavender flowers and organic flax seed.  
Directions for Use: Simply spritz with water and heat in the microwave for one minute on high.
This item only ships within the United States.
Read the Reviews
See what others are saying about this item