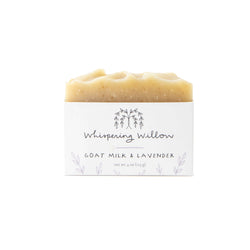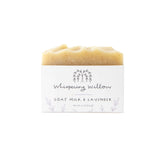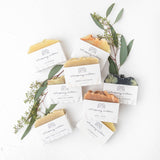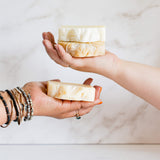 Goat Milk Lavender Bar Soap
Fulfilled by our friends at Whispering Willow
Cleansing Is An Opportunity, Not A Task
Our Goat Milk Lavender Bar Soap invites you to slow down and bring intention to the process of cleansing.  As you wash, the rich lather will infuse the air with the calming scent of lavender leaving you grounded, balanced, and settled.  The blend of organic oils, goat milk, and ground oats will imbue a deep sense of renewal.  You will leave the shower feeling calm and restored with the tension and anxiety of the day having melted away.  
Each bar is handcrafted with a unique blend of organic palm-free oils, butters, botanicals, and essential oils which creates a luxurious lather that moisturizes while it gently cleanses the skin.  
The goat milk in this bar is sourced locally from our partner Laurel Hill Farm & Preserve. 
Net Weight - 4.0 oz
Ingredients: organic coconut oil, water, organic olive oil, sodium hydroxide†, organic sunflower oil, goat milk,  organic shea butter, organic castor oil, organic jojoba oil, organic avocado oil, organic lavender essential oil, organic oats
For the longest lasting bar, keep dry between uses.  Our cedar soap dish is a perfect way to extend the life of your bar. 
† Sodium hydroxide & potassium hydroxide are also known as lye.  They are used to create soap but do not remain in the final product.  You can read more about soapmaking and labeling on our blog
This item only ships within the United States.
Read the Reviews
See what others are saying about this item