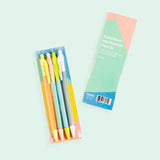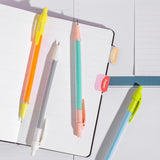 Colorblock Mechanical Pencil Set
Fulfilled by our friends at Pattern Brands
Our Colorblock Mechanical Pencil Set comes in a pack of 4 so you can stash one everywhere you're likely to be struck by a great idea or artistic vision. Start clicking and creating! 
Set of 4 Pencils
0.7 mm lead
5.5" x 0.5" (14 x 1.27 cm)
This item only ships within the United States.
Read the Reviews
See what others are saying about this item