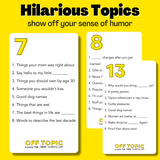 Off Topic
Fulfilled by our friends at Off Topic Store
Creativity Rules: Off Topic is a fun board game that gets the brain juices flowin' and stirs up some hilarious conversations during friends and family game night.
How To Play: Draw a card to set the topics, and roll the die to set the letter that your responses must begin with. Flip the sand timer and you're off! Race against time to write down answers for each topic that begin with the letter rolled.

Defend Your Answers: Coming up with answers is only part of the game. Debating answers with your friends and family is where the real fun happens!

What's In The Box?! Each game box comes with everything you need for endless rounds of fun: a 20-sided die, 16 game cards, 8 white boards, 10 dry erase markers, and a 2 minute sand timer.

Fast Paced Fun: The perfect party game for adults to play with 2-8 players. The best game for those with short attentions spans, (read: everyone) the pace is quick, the rules are simple, and games can be as brief as 30 minutes, or as fun as 90 minutes!
This item only ships within the United States.
Read the Reviews
See what others are saying about this item