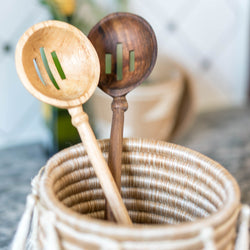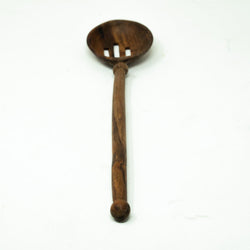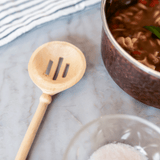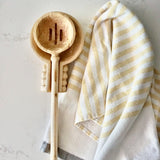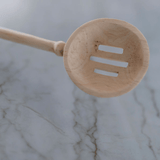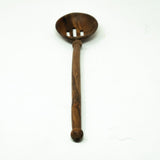 Hand Carved Wooden Spoon - Merideth Slotted Spoon
Fulfilled by our friends at Azizi Life
Macy's Hand Carved Wooden Spoons were born out of many memories in the kitchen growing up cooking and baking with different women in her life. Learning to make soup during the holidays, cakes and pies for birthdays, early morning coffee, and many more, each one of these times created a memory to last forever.
By naming each carved item after an incredible woman in her life, Macy wanted these items to be that much more special than just an everyday wooden spoon. With each stir, scoop, and scrape we hope these spoons will be a part of the memories in happy homes to come.
Ethically crafted and carved by small groups of men in rural workshops and homes in Rwanda.  They are finished with an all-natural beeswax polish from Beeutiful Creations.
Azizi Life is a member of the Fair Trade Federation and committed to fair trade principles.
Every product supports their community impact projects.
Please note that the shape and shade may vary slightly as they are all carved by hand from different cuts of wood.
Size: Approximately 12.5 inches long
Care: Handwash with mild soap and warm water. Please avoid bleach and the dishwasher.
This item only ships within the United States.

Read the Reviews
See what others are saying about this item