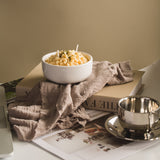 Macaroni & Cheese Candle by Southlake Gifts
Fulfilled by our friends at Southlake gifts
The macaroni and cheese candle bowl (Mac & Cheese) — is perfect for those with carb cravings without finding the perfect recipe. This handmade macaroni and cheese candle comes in a porcelain bowl and smells just like the real thing. Take it home and wake up feeling cheesy!
Pack of 1 candle
Material: Soy Wax Blend 80% and Beeswax 20%
Size: 5.9 in. X 5.9 in. X 3.5 in.


This item only ships within the United States.
Read the Reviews
See what others are saying about this item