Game Night Club
Game Night Club is a
membership fo
r game-lovers, inspired by Ellen's love for games. Each quarter, Ellen hand-picks a must-have game, plus everything else you need to host an epic Game Night at home.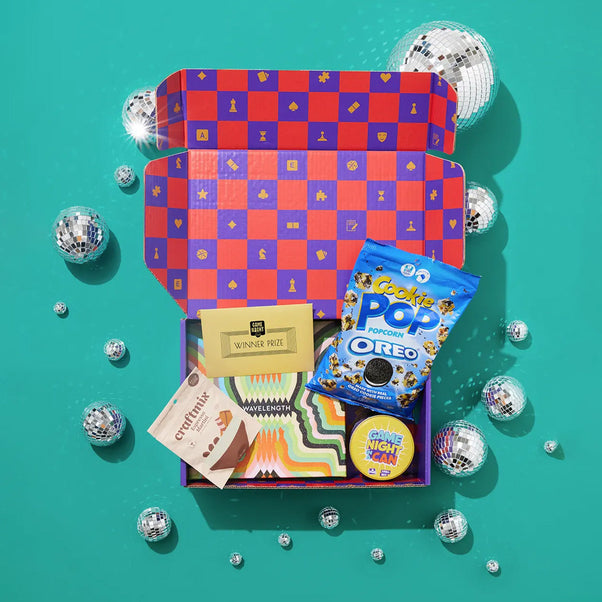 What's in the
Our first-ever Game Night Club delivery is the perfect excuse to invite your friends and family over for a night of fun, joy, and laughter!
Wavelength is a social guessing game where two teams compete to read each other's minds! It'll have you guessing, expressing deep thoughts, and exchanging high fives all night long. You can start playing this viral game in seconds, and there's a fun, big contraption that makes you feel like you're on the greatest game show that never existed.
From game-masters Barry McLaughlin and Jason Lautenschleger, Game Night in a Can has 35 interactive mini-games that will challenge your friends and family to compete as they write, draw, act, toss, and more! Because you play a different assortment each time, your Game Night will be unique every time you play.
Custom Online Invitations
Game Night Club is best enjoyed with some of your favorite people. We've partnered with our friends at Punchbowl to create custom online invitations to make it easy to host your own game night at home.
No need to mix your candy and popcorn together for a delicious sweet and savory popcorn! Snax-Sational Brands has you covered with its Oreo Cookie Pop and Sour Patch Kids Candy Pop. Both popcorn blends combine our favorite flavors together for the perfect Game Night Club snack!
Join the espresso martini craze with the world's first-ever instant Espresso Martini mixer from Craftmix. Just add 1 oz. of vodka, 2 oz. of water, one Espresso Martini pack, serve over ice, and voila! An instant Game Night cocktail that's ready in 30 seconds. You can also enjoy it as a mocktail by skipping the vodka.
We don't want to tell you how to live your life, but there are some serious words of wisdom inside this fortune teller that's bound to inspire your guests in between game rounds. We find it's best enjoyed AFTER your espresso martini.
Winning Game Night is just like winning an Oscar but BETTER because there's a PRIZE! Don't peek til Game Night is over; then pass this golden envelope off to your MVP to send your winner home with a prize on us.
Read the Reviews
See what others are saying about this item