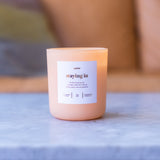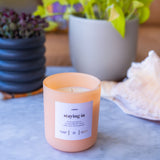 Staying In Candle
Fulfilled by our friends at rabble
Staying in is the new going out. This is the perfect candle for a wild game night in.
Deep patchouli and warm amber intermingle with fresh citrus and heady rose for an intoxicating creation.
12 oz.
Made from 100% Organic Soy Wax
Premium Cotton Wicks and Fragrance Oils
This item only ships within the United States.
Read the Reviews
See what others are saying about this item